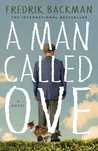 A Man Called Ove by Fredrik Backman
My rating: 3 of 5 stars ★★★
Genre: Contemporary, Humor
Source: Gift
Ove is an older man who lives alone. He is a grouch. Since the death of his wife, he's not sure what to live for. He cares very much about things being done "the right way," which he believes the new generation fails miserably at. In fact, he feels everyone fails miserably at basically everything. One day, a chatty couple with two chatty children move in next door. The young mother, an Iranian immigrant, immediately sees through Ove's tough exterior to the little bit of jelly in the middle. And Ove's life becomes a roller coaster ride from there.
I believe I'm one of few people who didn't quickly give this book 5 stars after finishing it. Because honestly, I didn't love it. Trust me, I am more surprised about this than anyone.
The main reason I didn't like this book was Ove… To call him "bitter" is an understatement. Because if we're really being honest, Ove is mean. Yes, he lived a tough life and has lost his one true love. But he also yells and goes on angry tirades and calls people names. Especially sales associates at stores. Yes, we're supposed to forgive him all of this because of his hard life and because he starts doing kind things for his neighbors.
But here's my problem: I have been that sales associate. I have been called names, yelled at, and been treated like I am stupid. It doesn't feel good.
So all through this book when Ove is calling these innocent people names and being an extremely unpleasant human being, I was thinking of how the people he's interacting with are feeling. Because when you're being yelled at and called an idiot, you don't care that the old man who is yelling at you loved his wife. People shouldn't treat other people this way.
I am well aware that Ove's grumpy interactions are meant to be funny, but it just never worked for me.
That being said, this book isn't all bad. There are plenty of good things about it. I loved Ove's relationship with Parvaneh. She is a strong, intuitive woman who anyone would be lucky to know.
This book is very diverse, too. Race, disabilities, sexual orientation. It's all here. So if you're looking for a diverse read, this would be a good pick.
So there's good and bad here. Most people love it so I imagine I'm in the minority here. But still, if I had a negative emotional reaction to a book, I can't ignore it. Oh well.